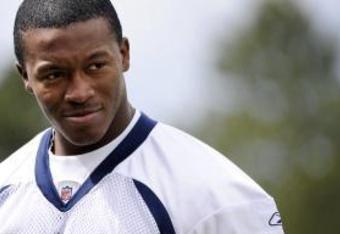 Demaryius Thomas was the first wide receiver selected in the 2010 NFL Draft


From Brandon Marshall, to Dez Bryant, to quarterback Tim Tebow, it seems like Denver Broncos rookie wide receiver
Demaryius Thomas
couldn't
buy
a headline from anyone this offseason.
Being overshadowed by Marshall is understandable enough, but I doubt people would really know without looking it up that Thomas was actually drafted ahead of both Bryant and Tebow back in April.
When the Broncos traded back multiple times in April's draft, I thought for sure they would snag Oklahoma State product Dez Bryant with the 23rd pick. After all, head coach Josh McDaniels had nothing but good things to say about Bryant in a pre-draft interview, and it appeared as though he would be a steal with the pick the Broncos had.
When they jumped in front of the Ravens and traded picks with the Patriots, I knew something was up.
When I read the Tweet saying the pick was Demaryius Thomas, I was stunned, to put it lightly. Why would the Broncos take Thomas over Bryant at this point in the draft? Bryant would have been an absolute bargain, and Thomas had been injured leading all the way up to the draft.
I went back to my draft evaluations, pondering the pick.
I looked at scouting reports of the two players, and tried to determine why the Broncos had taken the lesser known Thomas over the big name. It became very clear why Denver made Thomas the top receiver selected in the 2010 NFL Draft, and he's turned into one of the best kept secrets in the NFL.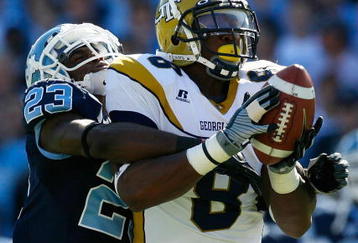 Thomas made a ton of big plays in his time at Georgia Tech

Kevin C. Cox/Getty Images
At Georgia Tech, Thomas had a career year in his junior season, catching 46 passes for 1,154 yards and eight touchdowns. For those not in the know, that's an average of over 25 yards per reception. What makes Thomas' production last year at Georgia Tech even more amazing?
The Yellow Jackets run the triple option as their offensive set.
It is heavily reliant upon having a running quarterback as well as a powerful running back. Wide receivers are most certainly not supposed to be productive in this type of offense.
As we saw with Calvin Johnson, Demaryius Thomas is simply a special player, and he made the most of his opportunities. Despite Tech averaging over 300 yards rushing per game, he was still able to put together a 1,000 yard season at the wide receiver position, and that is nothing short of stunning.
Still, there were questions surrounding Thomas. Would his foot be able to stay healthy? Would he be able to learn how to run NFL routes?
Some assets that Thomas possesses, coaches simply cannot teach at this level.
The first asset Thomas has that not many receivers have coming out of college is his fantastic blocking ability. Coming out of the triple option offense, Thomas was asked to block a lot, and he's well versed in that regard already, and that's one less thing coaches have to worry about.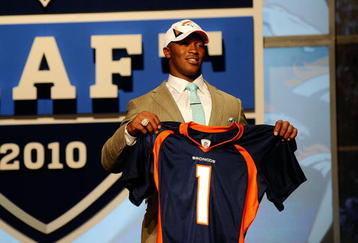 Thomas realized a life long dream when he was drafted by the Denver Broncos

Jeff Zelevansky/Getty Images
Instead of coaching blocking, the Broncos can focus on making him a better receiver.
Another asset is his intelligence, and I'll tag humility along with it. To say Thomas grew up in a bad situation is putting it lightly. At the age of 13, Thomas' grandmother was sentenced to 40 years in jail for drug dealing, and his mother was sentenced 20 for being involved with it financially. Demaryius moved around with some of his relatives, first with his grandmother's youngest daughter. He finally settled in with his grandmother's oldest daughter and her husband who is a preacher.
Thomas said when he made the final move, he decided to start living his life the right way, and said that he became a Christian and vowed to always stick to his word. He said one of the things he told his mother was that someday, he would go pro in some professional sport, whether it was basketball or football. That promise was fulfilled when the Broncos selected Thomas with the 22nd pick in the 2010 NFL Draft.
I say Thomas has intelligence, and that is backed up with facts. Thomas had the 10th highest wonderlic score of any player at the NFL scouting combine with a score of 34, which is well above the average for a wide receiver. His humility is very easily detected in his demeanor. He is a quiet player who lets his play do the talking.
Another thing coaches can't teach? Speed.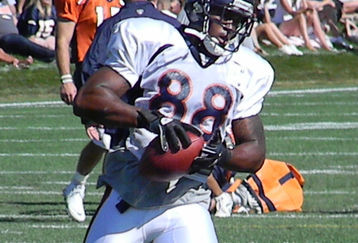 Broncos fans are excited to see Thomas on the field for the first time since Training Camp
Thomas reportedly was running a 40 yard dash in the 4.36-4.38 range prior to his foot injury. At 6'3" 229 pounds, the only other receivers in the NFL who might possess that kind of size/speed ratio are Andre Johnson, Larry Fitzgerald, and Calvin Johnson. It's almost unheard of.
Certainly, Thomas is an interesting athletic specimen, but he's having trouble staying on the field. He missed quite a bit of the Broncos' OTA's this offseason, and when he finally got to camp, he re-injured his foot at the Invesco Field practice (on a touchdown catch, no less).
When Thomas finally came back from that minor tweak, he tweaked his foot again in practice and was held out not just the entire preseason, but he was inactive for the Broncos' week one matchup against the Jacksonville Jaguars.
Thomas is again getting healthy, and hopefully the Broncos have allowed enough time this time around for his foot to fully heal. He has been a full participant in practice this week, but he admitted earlier on that he still might be a couple of weeks away. Head coach Josh McDaniels was more optimistic about Thomas' return, giving hope that the rookie could possibly suit up for his first game this weekend when the Broncos host the Seattle Seahawks.
Whatever the outcome, the Broncos simply need to wait until Thomas is at 100 percent.
He is going to be an asset to this team when he is fully healthy, and outside of his broken foot in the offseason, Thomas had absolutely no trouble staying healthy at Georgia Tech and is not by any means an injury prone receiver, and hopefully it doesn't become that way either.
What the Broncos lost in Brandon Marshall, they gained back and then some in the talent of Demaryius Thomas. He was absolutely dominant for the most part at camp, and caught two touchdown passes in scrimmage action at the Invesco Field practice before he re-aggravated the foot injury.
Still, nobody in the NFL seems to be talking about him.
That's good news for the Broncos, who would just as soon keep Thomas one of the NFL's best kept secrets and unleash him at the expense of an unexpecting opponent.
Thomas was the first receiver selected for a reason. This week might be the first that NFL fans get to experience exactly why.